Image Credit: Mark Golding

In the future, humanity will become the diamond-souled kingdom ~
working as one to fuse spiritual and mundane fire and raise planetary
kundalini. As this occurs, the whole of planetary life will shift onto etheric
levels and a state unimaginable to us at present. The pure, cold fire of love
that shines from Venus whose evolution is someway ahead of ours, indicates
the way, as does the sulphurous, fiery atmosphere that envelops its physical
body indicate that the liberation of spirit from matter has taken place.
- Lucis Trust, The Purified Breath and Carbon Transformation
Hello Star Gazers,
As Gemini's Goodwill lunar cycle (May 6-June 4) comes to a close, I offer a few notes for your listening pleasure, notes that the heavenly Twins sound forth into our human realm.
The Gemini Twins Constellation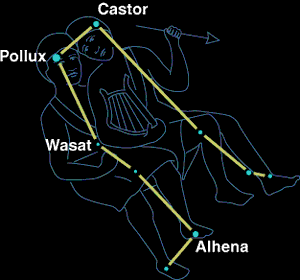 Image: StarDate Online / Adobe Photoshop