Greetings Everyone,
July 15, 6:34pm PDT marked the beginning of the Sirius~Leo Cosmic lunar cycle, which peaks at the July 31 Full Moon Festival and ends August 14 at 7:53am PDT. This is the time for our soul light to become aware of the evolutionary energies emanating from Sirius our spiritual Sun and brightest star in the heavens. This cycle awakens a soulful humanity to the extraplanetary Life manifesting through Sirius.
At this time Sirius and the regulator of its energies, Regulus the heart star of Leo the Lion, are being activated and enlivened in several different ways. The interaction of these cosmic forces and their combined radiant emanations are bound to deeply transform the way humanity sees itself and manifests on this planet. Keep reading to learn more.
Lunar Theme: Linking & Uniting & The Venus Retrograde "New Moon conjoins Pollux of the Gemini Twins ... The Twins [Pollux/immortal, Castor/mortal] work hand-in-hand for the betterment and evolutionary fulfillment of humankind ... Venus retrograde [July 25-Sept. 6] occurs under the auspices of the Head of the Lion ... an inward journey of the heart ... a time of reassessing and redefining our values, of evaluating what is of true worth in our lives, materially, spiritually, and in our relationships ... an exceptional opportunity for tremendous growth to expand and elevate our values, our capacity to be receptive, and to break trail into new realms of love and compassion, due to its triple conjunction with Jupiter [7/1, 8/4, 10/25] ..." Click the lunar theme link for more insights by Nick Fiorenza.
The folks at SouledOut.org invite you to participate in the Sirius~Leo Cosmic Festival Global Meditation.
July 17-19 at dusk in the west, be sure to check out the young Moon, Venus, Jupiter and Regulus.
7/17-19 Map
Can you see the Moon's earthshine? Use binoculars for a lunar treat.
Sunrise/Sunset Calculator ~ Rise/Set/Times ~ Major Bodies
Day Out of Time ~ Galactic New Year
Sirius, Vega, Pluto and NASA's New Horizons
Regulus, Venus, Jupiter, Mercury
An Artist's Impression of Sirius A and Sirius B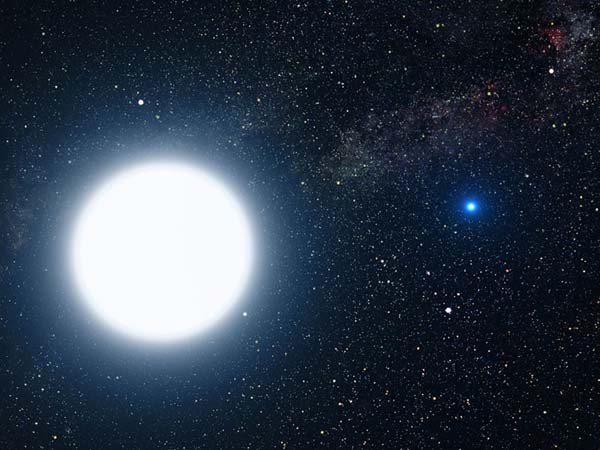 Image Credit / Description