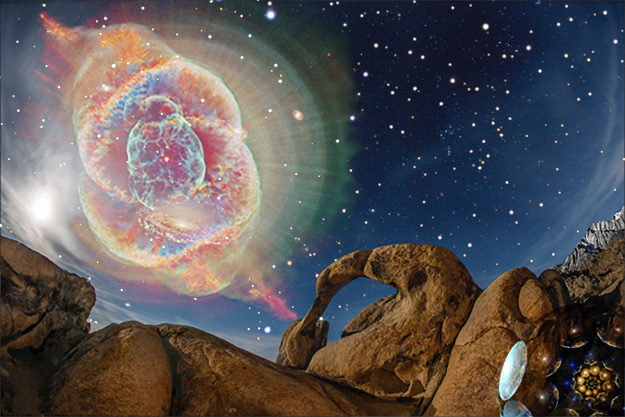 ... there is a path to follow that allows for us to move through this time of change.
Walk gently upon our earth with respect for her and all life.
A return to connecting our heart with the heart of the path to the future.
- Hopi Call to Prayer
Pisces Festival 2019 Meditation ~ Audio

We welcome all who wish to participate in this global
meditation to meditatie at or within 12 hours of the
actual time of this year's Full Moon in Pisces~Virgo
Tuesday, February 19 ~ 7:54 am PST / 15:54 UT
and any time you're impressed to, during the monthly cycle.
For the Full Moon Festival during Pisces 2019 ~ we continue to utilize our meditation focus theme for the annual cycle, based on "Cosmic Freedom Inaugurates Planetary Liberation".
The Pisces Festival culminates the current Spiritual Year, with the new cycle commencing at the upcoming spring equinox.
For this guided Pisces Festival Meditation, the audio player at the above link provides a spoken, produced version of the meditation with music, so you may listen while meditating, uninterrupted.

Cosmically Aligned, We Embrace
The Eternal Rhythm of the Ages,
The Rhythm of the Sages
We link up with people of goodwill everywhere, creating a united group channel through which the spiritual forces can become available.
Affirming this channel, "We stand poised, united as one soul with our Spiritual Hierarchy." We hold the focus.
We now visualize ourselves as the Chalice ~ the grid of light all over the earth that connects the light of every Light worker and each sacred energy vortex. This network serves as a conduit through which the heavenly blessings may flow through each and every one of us and to the planet Earth.
When we have achieved this alignment, we become still and receptive ...
We rise as one, to greet the light. In response the great gateway that is Pisces pours into and through us.

As we rise, we feel the earthly pulls of desire fall away. We reflect inwardly. Does any relationship ~ be it personal, work, or social ~ still serve the greater good?

We see any endings not as physical death, but as the leaving behind of old forms which no longer serve. We see ourselves continuing as transmitters of the Light, as we rise unto eternal resurrection.

We sacrifice indifference and open anew to the commandment of inclusiveness. We seek the truth expressed by all the great teachers who speak the universal language of shared sacred principles ~ Forgiveness, Compassion, and Divine Purpose.

It's our challenge as Beings of Goodwill to find the ways to put aside any seeming differences that divide and separate.

Our sacred language belongs to no one group. This is Humanity's language, and it truly transcends all borders and belief systems. It is the basis for uniting us all.

We look within and find the shared beliefs, the principles of agreement ... and we strengthen these.

Let us reach out to create a unifying, inspirational new world religion, which brings us all together.

Let us go hand in hand, heart to heart, Spirit with Spirit ~ to our Divine Destiny as One!
Together in the Holy Grail
We rise to the Divine Temple.
We turn back to Love, to Share
the One Life ~ our Service simple.
As we emerge from meditation, we are joined in this stream by lightworkers everywhere on the planet and from on high. With focused mind, heart and will, together we say The Great Invocation.
Suggested group meditation time, details here.
Identified with Divine Consciousness, Aligned with Cosmic Will
We Leave Our Father's House and Turning Back, We Save
Manifesting the Consummation of Pisces
Your Impressions and Comments are valued on WeCycle Wisdom.
Once you've logged into WeCycle Wisdom and posted your relevant Comment in response to this post (or other post, as appropriate), you'll be approved to create your own blog entries and in the future are welcome to share topical, pertinent discussion of the Ageless Wisdom in the form of blog articles on WCW.