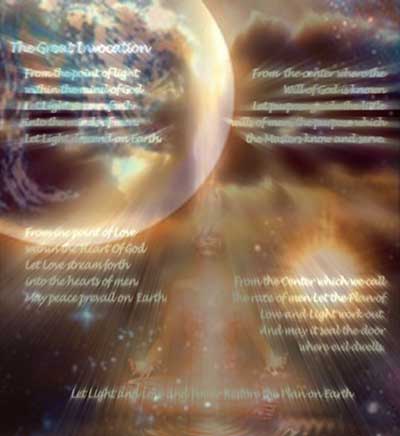 When that Plan is sensed, there comes the realisation of the unity of all beings,
of the synthesis of world evolution and of the unity of the divine objective.
All life and all forms are seen then in their true perspective;
a right sense of values and of time then eventuates. When the
Plan is truly intuited and at first hand, then constructive
effort becomes inevitable and there is no lost motion.
- Alice A. Bailey, Discipleship in the New Age I p. 25
The Great Invocation's essential meaning both encapsulates and epitomizes the true significance of Wesak Festival and Safeguarding the newly inflowing energies, in preparation of the Gemini Festival of Goodwill, this year on Tuesday, May 29.
From the Point of Light within the Mind of God
Let Light Stream forth into our Minds,
Let Light Descend on Earth.
Annually, the Buddha engages in the Wesak Ceremony's very pure conveyance of Light from on High, just as is described in the first three lines of The Great Invocation. Through his annual act on behalf of humanity and all on Earth, the Forces of Enlightenment become activated.