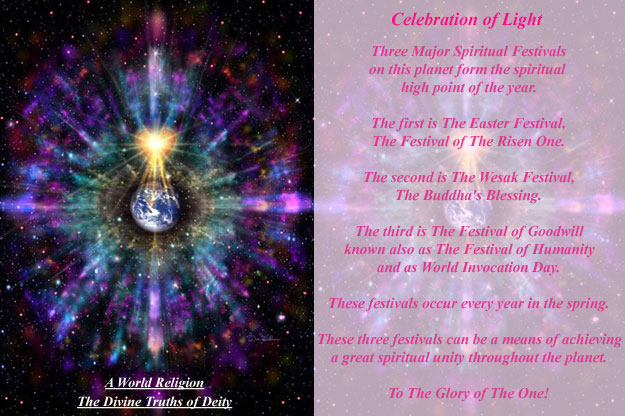 The Aries Festival ~ Easter
The Festival of The Risen One
The first of the three major spiritual planetary festivals, The Festival of The Risen One, is celebrated at the full moon during Aries and in the western hemisphere has been observed traditionally as Easter, on the following Sunday.
This Festival is in present time the Festival of the Risen, Living Christ, and honors the spirit of resurrection and the birth of Divine ideas. The consciousness of the heart ~ the energy of Love as represented by the Spiritual Hierarchy ~ is recognized, and the nature of God's Love is emphasized at this time.
The Forces of Restoration are particularly active during the time of the Aries Festival. These forces emanate from the MIND of God; they are connected with the intelligence principle in the divine nature, stimulating human intellect.
This restorative energy is especially creative in nature and carries the Life which produces the birth of forms. It relates to stimulation of the mass intelligence and causes humanity to think, plan, and take action, producing neither good nor bad results ~ simply the awakening of our minds so we will take intelligent action.
The action itself is necessarily dependent upon the type of mind of those who respond to the Forces of Restoration. It will be conditioned by their point in evolution, the racial and national background, tradition, and religious and cultural reactions.
These forces are now active in every land, frequently producing increased initial difficulties but leading eventually to a definite reorganization of the national life. The effects are primarily physical. Their objective is the production of the new Earth and all the outer evidences of an inflowing New Life.
In 2022 the Festival of the Risen One or Easter Festival full moon
occurs on Saturday, April 16 at 11:55 am PDT / 18:55 UT.
Thank You for Your Heartfelt
Participation & Generosity!
Aries Festival of the Risen One~Global Meditation
Spiritual Meditation Focus
Easter Festival Audio
Celebration of Light~Wesak
Celebration of Light~Goodwill
Principle of Unanimity Synthesis
Aries Full Moon Festival of the Risen One~Overview
Aries Full Moon Featival of the Risen One~Mythology
Preparing for an Aries Full Moon Featival Ritual
Aries Navigation Page
Aries Zodiacal Deity
The Springtime Holy Feasts
The Second Coming Occurs Inside
Christ in Us, the Hope of Glory
Work of Buddha, Christ & Humanity
Secret of Creation
3 Spiritual Festivals
Invoking the Divine~The Great Invocation
Inspiring Audio
Festivals
Cosmology
Linkups~SouledOut.org's Recommended Links
Glossary of Esoteric Terms & Phrases
SouledOut.org Site Map
SouledOut.org Home