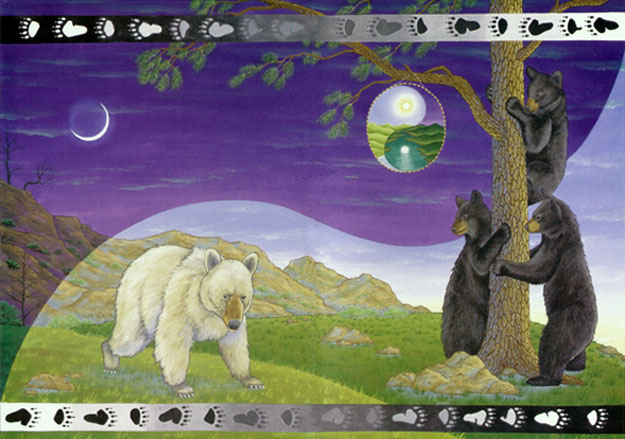 Every Day Is Earth Day
Bear and Tree
Bear is the spirit keeper of the west, the place of adulthood,
the autumn, the sunset, and a good harvest.
Bear medicine awakens us, deep within …
to the Divine Plan, which restores our Mother Earth.
As Spirit Bear enters our world and crosses our path,
we are reminded of an ancient connection with the creator.
Tree links Heaven and Earth and gives us
a wider and broader perspective as we climb it.
Tree also reminds us to bring our awakened inner self
out into the world, making our "bear claw" mark upon it.
Bear and Tree create a balance, a dance of yin and yang.
Spirit Bear Youth Coalition
Learn all about this rare white bear, including its legend!
Natural Resources Defense Council
NRDC's work in the Great Bear Rainforest, home of Spirit Bear
Talking Trees
Measurable waves indicate communicaton.
Graphic: "Crossing Paths"
Rick Faist, P.O. Box 343
Williams, OR 97544
Earth Day Gallery
The Wood Nymph
She tends the forest.
White Buffalo Calf Woman
Honor all creatures as brothers and sisters.
Gaia's Angel
We pray.
I Stand
The Sacred Circle unites us as One.
Spring
The land speaks to us.
Winter
Joyous peace shall reign.
Walk in Balance
The Earth is sacred.
Thank You for Your Heartfelt
Participation & Generosity!
Planetary Rhythms
Old Turtle's Malachite Dreams
The Secret Garden
Rocks
The Night Sky
Bunny Hollow
Earthly Delights
Inspiring Audio
Cosmology
Linkups~SouledOut.org's Recommended Links
Glossary of Esoteric Terms & Phrases
SouledOut.org Site Map
SouledOut.org Home